Leggings
3348032
Color:
Black / Grey
Black / Grey
Size And Fit Guide: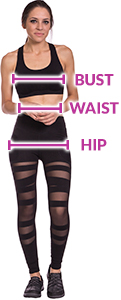 Size
USA
Dress
Size
Bust (in)
Waist (in)
Hip (in)
XS
0-2
29-31
22-24
30-32
S
4-6
32-35
25-27
34-36
M
8-10
36-37
28-29
38-40
L
12-14
38-39
30-34
42-44
XL
16
40-42
35-38
46-48
| Style Type | Inseam Length (in) |
| --- | --- |
| Capri | 17-18 |
| Short | 25-26 |
| Regular Length | 26-27.5 |
| Full Length | 27.5-29 |
Tagged On Instagram:
These distressed leggings will up your cool factor exponentially. The Marina leggings offer a unique distressed detail on the lower leg. Hard core workouts, no problem! Any continued distress on these over time will just make them more edgy. Add booties and a leather jacket for an effortlessly cool style you can wear any wear. But don't be surprised if you find yourself on the back of a motorcycle by the end of the night. Heck your so cool you may just be riding the motorcycle yourself.
Features:
POP Fit Structured Back features double rows of curved stitching provides structure and that will lift your butt.
Signature designed pockets!
Breathable, quick-dry fabric that stays in shape wash after wash.
Flat Lock Seams on every stitch, no itch and no chaffing.
Flattering fit that hugs you in all the right places.
Leggings will not slip or sag.
Stylized lines to contour your body.
Fit:
Athleisure Collection designed for all day wear and durability. Squat Test Approved.
Slim Fit, our skinny / tight fit.
Short length, about 7/8 the Regular Length.
Size And Fit Guide: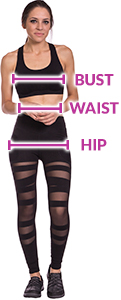 Size
USA
Dress
Size
Bust (in)
Waist (in)
Hip (in)
XS
0-2
29-31
22-24
30-32
S
4-6
32-35
25-27
34-36
M
8-10
36-37
28-29
38-40
L
12-14
38-39
30-34
42-44
XL
16
40-42
35-38
46-48
| Style Type | Inseam Length (in) |
| --- | --- |
| Capri | 17-18 |
| Short | 25-26 |
| Regular Length | 26-27.5 |
| Full Length | 27.5-29 |
Similar Items