Leggings
3320385
Color:
Black
Light Grey
Light Grey
Size And Fit Guide: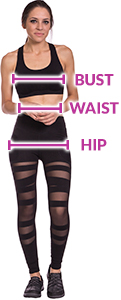 Size
USA
Dress
Size
Bust (in)
Waist (in)
Hip (in)
XS
0-2
29-31
22-24
30-32
S
4-6
32-35
25-27
34-36
M
8-10
36-37
28-29
38-40
L
12-14
38-39
30-34
42-44
XL
16
40-42
35-38
46-48
| Style Type | Inseam Length (in) |
| --- | --- |
| Capri | 17-18 |
| Short | 25-26 |
| Regular Length | 26-27.5 |
| Full Length | 27.5-29 |
Tagged On Instagram:
If Ballerinas are your style inspo than you are in luck! The Lily leggings have the ballet inspired side lace up details over mesh. Because have we mentioned how much we love mesh? So throw your hair up in a top knot and take these leggings from barre class to the bar.
Features:
POP Fit Structured Back features double rows of curved stitching provides structure and that will lift your butt.
Mesh.
Breathable, quick-dry fabric that stays in shape wash after wash.
Flat Lock Seams on every stitch, no itch and no chaffing.
Flattering fit that hugs you in all the right places.
Leggings will not slip or sag.
Stylized lines to contour your body.
Fit:
Leisure Collection designed to be super soft, light and breathable.
Slim Fit, our skinny / tight fit.
Full length, slightly longer than our regular length.
High-Waisted with Light Compression (reaches belly button).
Size And Fit Guide: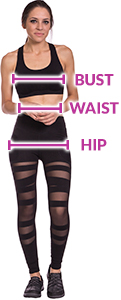 Size
USA
Dress
Size
Bust (in)
Waist (in)
Hip (in)
XS
0-2
29-31
22-24
30-32
S
4-6
32-35
25-27
34-36
M
8-10
36-37
28-29
38-40
L
12-14
38-39
30-34
42-44
XL
16
40-42
35-38
46-48
| Style Type | Inseam Length (in) |
| --- | --- |
| Capri | 17-18 |
| Short | 25-26 |
| Regular Length | 26-27.5 |
| Full Length | 27.5-29 |
Similar Items