Leggings
3259825
Color:
Black
Size And Fit Guide: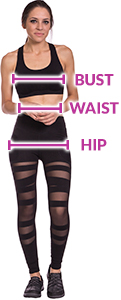 Size
USA
Dress
Size
Bust (in)
Waist (in)
Hip (in)
XS
0-2
29-31
22-24
30-32
S
4-6
32-35
25-27
34-36
M
8-10
36-37
28-29
38-40
L
12-14
38-39
30-34
42-44
XL
16
40-42
35-38
46-48
| Style Type | Inseam Length (in) |
| --- | --- |
| Capri | 17-18 |
| Short | 25-26 |
| Regular Length | 26-27.5 |
| Full Length | 27.5-29 |
Sorry! This item is currently sold out.
Tagged On Instagram:
As our best selling leggings, the Avas are a total show stopper. With seven front Mesh panels, these full length/high waist pants give you legs for days. So versatile you can find almost any occasion to wear them. Throw on some heels for a night out or a sports bra for bikram, either way, you will be the center of attention wherever you go.
Features:
POP Fit Classic Back will shape and lift your butt.
Mesh.
Pockets! Designed to fit an iPhone 8+.
Breathable, quick-dry fabric that stays in shape wash after wash.
Flat Lock Seams on every stitch, no itch and no chaffing.
Flattering fit that hugs you in all the right places.
Leggings will not slip or sag.
Stylized lines to contour your body.
Fit:
Athleisure Collection designed for all day wear and durability. Squat Test Approved.
Slim Fit, our skinny / tight fit.
Full length, slightly longer than our regular length.
High-Waisted with Light Compression (reaches belly button).
Size And Fit Guide: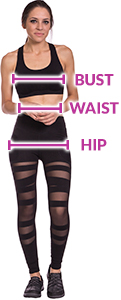 Size
USA
Dress
Size
Bust (in)
Waist (in)
Hip (in)
XS
0-2
29-31
22-24
30-32
S
4-6
32-35
25-27
34-36
M
8-10
36-37
28-29
38-40
L
12-14
38-39
30-34
42-44
XL
16
40-42
35-38
46-48
| Style Type | Inseam Length (in) |
| --- | --- |
| Capri | 17-18 |
| Short | 25-26 |
| Regular Length | 26-27.5 |
| Full Length | 27.5-29 |
Similar Items